Fun and Fundraising at William's Den!
On Saturday 2nd & Sunday 3rd June at William's Den there will be lots of opportunities to build dens and have fun whilst raising money for Save the Children. The money the den-builders raise will help make sure more children around the world have a safe place to sleep and play.

Save the Children works to protect children by giving them a healthy start and the chance to learn. This spirit is part of William's Den beliefs and therefore we are backing their Build a Den Campaign. By supporting this campaign, we are aiming for our visitors to have fun, get creative and learn about the importance of shelter for children across the world as they build their own.

In the woodland we want all our visitors get behind this fundraising initiative and donate £3 to be part of our excursion into The Woodland to create and build an amazing den, whilst raising money to change children's lives.

'We are always looking for ways to stand out and we believe that stimulating children to participate in Save the Children Build a Den Campaign will appeal to everyone's compassion', stated owner of William's Den, Christian Carver.
'We are working with Save the Children on Saturday 2nd & Sunday 3rd June as Den Day is a great way to get creative and spend time with the family. And best of all, all the money raised will help children growing up in some of the toughest places in the world'.

In 2017, 5,000 organisations joined Den Day, but William's Den was not open in time, so we are making it easy to take part in Den Day' in 2018 building dens together as a family to give more children the things they need to grow up healthy and happy, like a safe place to shelter.

In the main area there will be an additional opportunity for everyone to get involved, build a den, take a picture, make a token donation and then upload onto social media with the hashtag #OurDenatTheDen. We will be giving a £30voucher for the best den with a generous donation.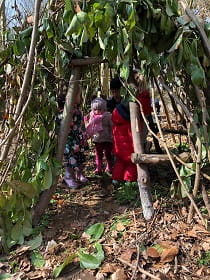 During the weekend there will also be a Lucky Dip and a Save the Children Message Tree.