Take part in the Super Hero Challenges at William's Den
William's Den is offering a fun filled half-term week with William's Super Hero Challenges from 29th 31st May. Open to all age groups with the chance of becoming William's Den Ultimate Hero on Friday 1st June! From Tuesday to Thursday there will be individual challenges for different age groups:
Age 4 and under Age 5 7years Age 8-10years Plus 11years
Share the action with family and friends with Super Hero Changing Challenge, The William's Water Drop and the Recylon Relay. There will be certificates for the winners.
On Friday 1st June all our winners will be invited to take part in the Ultimate Hero Challenge with Laser Tapes, Wall Breaking, Tunnels and Bridges, to begin with! Again, there will be different degrees of difficulty for the various ages with prizes for the winners, including some off-road driving in the Mini Tanks.
All the Hero activities are included in the normal ticket price, so you have access to the amazing adventure play area all day. Be sure to bring a change of clothes though as there is a chance you may get messy or wet!
'William's Den is centred on wholesome fun and adventure. We are aiming to create a unique themed week that will appeal to a broad cross-section of families with the William's Den Super Hero Challenges. These contests will boost imagination and let the children challenge themselves and explore all we have on offer at William's Den', mentioned Tor Carver. 'We are encouraging the participants to dress as their favourite Super Hero or even wear their own creation'.
The Mini Tanks will be here all day on Friday 1st June providing an off-road entertainment experience for children and they are available for everyone to add to their encounter at The Den.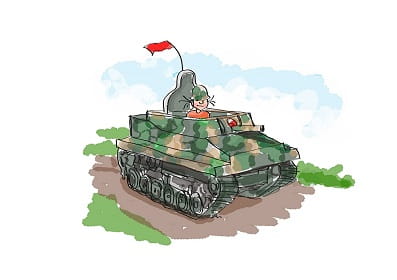 The tanks will be ready to roll from 10am in the morning and the great thing is they are so simple and easy to use, it's child's play! They are designed to be driven by children 1.4metres and above, plus adults alike. Children under this height can participate but they MUST BE accompanied by an adult inside the tank.
We are booking in one-hour slots to reduce queuing, but you need to be prepared for a little wait. We have secured 4 tanks to be running the course at any one time throughout the day. Tickets for the 1st June are now available online at only £6.50 per ride! Admission will also need to be purchased to join in with the off-road driving.
It's time for Super Hero fun at William's Den during half term. Show us your competitive spirit, win prizes and become a William's Den Ultimate Hero from 29th May 1st June.