The Car Boot Sale returns to William's Den
William's Den CAR BOOT SALE is open for business again on Saturday 9th June. Join us as either as a seller - to trade your stuff or come as a buyer and find some fantastic bargains.
Spring is the ideal time to sort your clutter and we have the ideal spot to sell your wares at William's Den. It costs just £10per car for a pitch and you need to bring your own table. There is ample room to set up on site from 8am.
'We love bargains, and we want everyone to find some hidden treasures at our third car boot sale. Every year, one million people visit boot sales to find a good buy, or sell their trinkets, toys and clothes. We are hoping the public will do the same at Williams Den on Saturday 9th June,' stated Tor Carver, owner of William's Den. We believe it will be very popular with great deals to be had'!
For bargain hunters trading starts from 9am and entry is totally FREE! Maybe you will find that hidden gem - the last part of a china set you have been looking for, a designer bag, or a big bag of children's toys. The Den will be open from 9.00am for play. Families can make a day of it.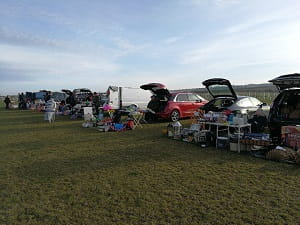 Christian Carver mentioned, We have our fingers crossed for clear skies next weekend so if you fancy picking up a bargain join us on Saturday 9th June from 9am. Williams Den is a wonderful place for the family and this Saturday you will also be able to go home with a car full of bargains'.
For more information please call 01430 472230, email hello@williamsden.co.uk or book tickets direct at www.williamsden.co.uk.