William's Den welcomes it 100,000th visitor!
On Friday 15th June William's Den welcomed their 100,000th visitors! This is just eleven months after opening as on June 30th they will be celebrating their first birthday.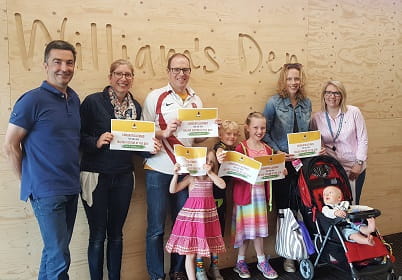 The Mawer and the Read family were surprised when they arrived at The Den on Friday morning as they were presented with certificates and a William's Den Gift voucher for becoming the 100,000th visitor since opening the doors in June 2017. Ms. Read had travelled all the way from North Carolina, USA with her family, to enjoy the best day ever' with her relatives from York.
Christian Carver, owner stated, We had been tracking our visitor numbers for a while, hoping we reached over 100,000 visitors within our first year and it happened last Friday! We are really pleased with the success of our project that my wife, Tor and I started developing 4 years ago. It has taken a lot of hard work, but the number of visitors is proving we got it right. However, we are not standing still, but looking to the future development of activities and play zones at William's Den'.