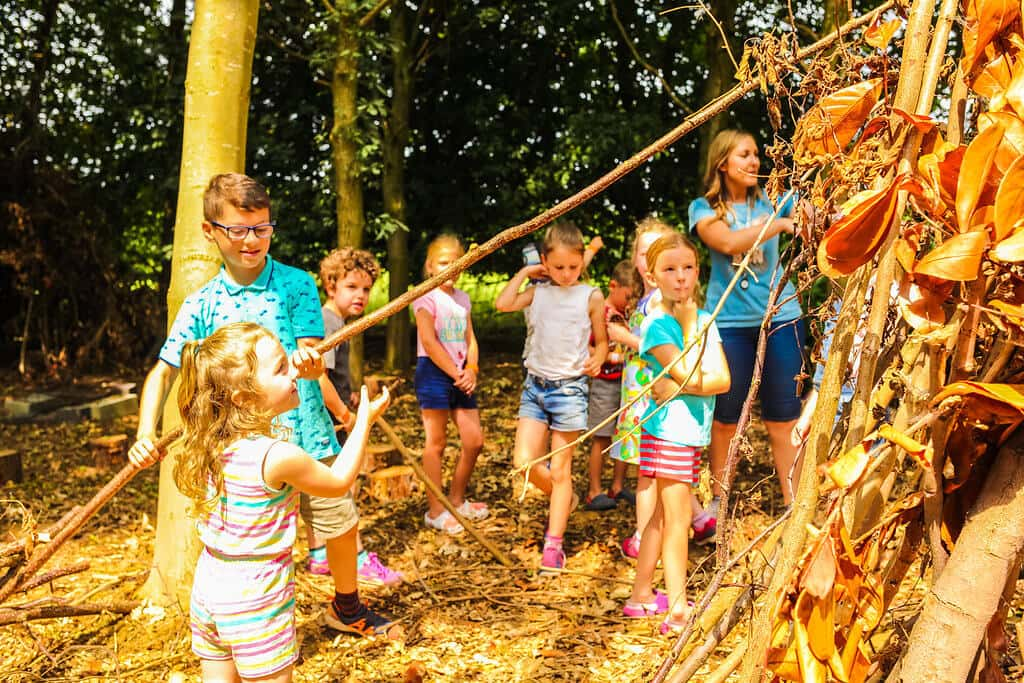 About tickets and booking
Can I book online?
Yes, online tickets are discounted compared to the door on the day. We strongly advise that you pre-book in advance to secure your place, particularly at peak times like school holidays and weekends as we can sell out during peak holidays and event times.
What happens when I buy a ticket online?
When you buy a ticket online you'll receive an order confirmation email that includes your unique Booking Reference Number and a barcode.
You can then either print this ticket, or use your smartphone to present the bar code at the William's Den information desk, where your ticket will be scanned to permit entry.
If neither of these options are available, you can always make a note of your booking number, so we can enter it into our system to find your booking.
Do you issue refunds?
Tickets are only valid on the date for which they were purchased, refunds cannot be offered in the event of cancellation or non-attendance. Tickets are non-refundable, but can be amended for the exact same ticket type and price, if you have set up a Digiticket account when booking.
Changing dates in your Customer Digiticket account

Changes to ticket dates can be done if you have created a customer account in Digitickets - to change tickets for the same ticket type, please log into your account by visiting our ticket page and log into your account by using the person icon at the top right of the page. Changes are subject to an admin fee.
If you have not created an account then please email us at hello@williamsden.co.uk for amendments only - we are unable to issue refunds to tickets.
Can I purchase a ticket on the day?
Tickets can be purchased at the welcome desk, however, we can't guarantee there will be availability on the day, particularly at peak holiday times. We advise booking in advance online to get the best price and to secure your place to avoid disappointment.
How can I get in contact with you?
For any questions about your booking or your visit please e-mail us at hello@williamsden.co.uk or call 01430 472230
Do you sell season tickets or annual passes?
We release various passes throughout the year, the current pass is for 6 weeks of the Summer Holidays. It is worth subscribing to our mailing list to enjoy early and discounted ticket releases and any offers. This can be done via the first page on our website - www.williamsden.co.uk.
It's also helpful to follow our social media pages and website for the latest offers.
Do you do birthday parties?
Hosted Birthday Parties are not available at the moment, but many people choose to celebrate their special occasion at the Den and bring a cake with them. We'll update our subscribers when new products go live, so it's worth signing up to our website to get the latest updates.To sign up go to the bottom of our home page on our website.
Can we bring a group?
We welcome groups and schools. If you are a School please see our School Ticket Page on the website here or if you are a very large group, then please get in touch at hello@williamsden.co.uk and we'll be happy to help.
Do you cater for school groups?
We are always delighted to help schools, pre-schools or educational groups to get the most out of their visit. See School Tickets for more details or get on touch at hello@williamsden.co.uk
Can I change my Tickets or date?
Tickets are non-refundable, but can be amended for exactly the same ticket type and price, for an admin fee, if you have made a Digiticket Account when booking.

Changing dates in your Customer Digiticket account

Changes to ticket dates can be done if you have created a customer account in Digitickets - to change tickets for the same ticket type please log into your account by visiting our ticket page and log into your account by using the person icon at the top right of the page. Changes are subject to an admin fee per ticket.

About your Visit
What should I bring and what should I wear
The play equipment enables children to play at height and be adventurous and is made of natural resources including wood, rocks, sand and water, so please bring suitable outdoor clothing, including robust footwear, trainers or wellies, a change of clothes and a towel should children fully partake in the play opportunities and get wet.
Can we buy food and drink at William's Den?
William's Den has a fantastic restaurant, where our wood-fired pizzas are not to be missed! We've created a delicious menu to appeal to both children and adults. As well as fabulous food and ice cream, the restaurant is fully licensed, so grown-ups can enjoy a glass of wine or beer with their meal too.
Visitors to William's Den in holiday time can also visit The Snack Box, which serves barista-style coffee, hot drinks, soft drinks, slush, and sweet and savoury snacks.
Can we bring a picnic with us?
Yes, you are more than welcome to bring a picnic to eat outside, we have lots of picnic areas to enjoy. For safety, no glass items are permitted. Please note that we don't allow your own food or picnics to be eaten in William's Pizzeria & Coffee Shop or any public indoor areas, including the indoor play area. For guidance on picnics & BBQs for camping please see our camping section.
Do you allow dogs into William's Den?
We don't allow dogs unless they are special assistance or guide dogs. This also includes access to our private woodland walk.
What age is William's Den suitable for?
We think that children between 2-12 years old will get the most out of William's Den adventure play.
Pre-schoolers can also enjoy our play areas, we have lots of sand and water play as well as mud kitchens. The ideal time for little ones is when the bigger kids are at school (Term Times) are perfect for them.
We are a family visitor attraction so always encourage everyone to join in and have the best day ever!
Can we take photographs?
Of course! But please only take photographs of your own group out of respect for everyone else. We would love you to tag us in your photographs on social media @williamsdenplay or hashtag #wdplay where we can share a selection of the most fun pics!
How much is parking?
Parking at William's Den is free of charge, and we have an overflow car park too.
Do you have any baby changing facilities?
We've built William's Den as a family attraction and baby changing is an important part of that! We have several family loos, all of which have a baby changing table.
We also have a "Changes Places" loo with height adjustable changing bench & hoist for older children and adults with disabilities should you need it.
Is William's Den breastfeeding friendly?
You are very welcome to breastfeed your baby whilst you are with us. If you would like a little more privacy, please ask one of our team, and we can try to find you a quiet place.
Do grown ups get to join in the fun?
Yes! William's Den is about giving you and your family an invitation to play together.
There's something for everyone at William's Den, and we want the grown-ups to enjoy The Den as much as the children.
William's Den is a place where you can make the most of your precious family time together.
It's been created by the nation's top play experts to challenge children and adults to climb, explore and try new things. We actively encourage you to enjoy it with them!
Our experts recognise that play happens everywhere and all the time. Children have a natural instinct for play and if we are feeling sufficiently inspired, we do too!
Whether in 'The Den' or outside, our outdoor adventure play and landscaped area is a great place to join in with the kids. Or you can just relax and take in the stunning views across the Yorkshire Wolds. From here you can enjoy our scrumptious home cooked food with all the facilities you need close by.
Should you not wish to purchase a ticket to enter the indoor and outdoor adventure play areas, we offer free access to other public areas - The Kitchen Table restaurant, The Shop, and our loos.
Please note that adult supervision is mandatory at William's Den. We really want you and your family to enjoy the experience together, however, there's a minimum supervision ratio of one adult to five children, (should all your party not wish to enjoy The Den and the outdoor adventure).
At William's Den, all children must be accompanied by an adult and adults must be accompanied by at least one child too!
Do you allow Dogs on William's Den Woodland Walk?
The Woodland walk is part of William's Den play areas, so no dogs (unless guide dogs) are allowed on the Woodland walk, but there is a lovely public footpath running alongside the woodland walk that heads to North Cave, and many lovely walks that are dog friendly from our site.
Please be aware that the footpaths are over private farmland so care should be taken to keep all dogs on their lead at all times. And dog fouling is not permitted anywhere including the public footpaths.
About Camping
What is included in a camping ticket?
It depends on the type of ticket. Pitch-only gives you a grass pitch of approximately 8mx8m, use of showers, loos, wash-up station, access to William's Pizzeria and Coffee Shop & Ice Cream Parlour; access to fresh running drinking water and an Elsan point; exercise area for dogs; and free access to the woodland walk.
For Pitch Up & Play, you get all of the above, plus access to William's Den Adventure Play from 2pm on your arrival day and each day you have booked to stay with us (see T&Cs on our camping page).
What loo facilities do you have on site?
We have six porcelain trailer loos plus a fully accessible loo with a baby changing facility.
Do you have showers?
Yes. We have six showers available. Please bring your own shower gel, shampoo and towels though!
Is there fresh water available on site?
Yes, we have fresh drinking water available on site.
Can I pitch up next to my friends?
Yes, we have a relaxed approach to pitches where space allows. There may be some exceptions for safety reasons, for example with tourers or caravans, but we'll try to accommodate flexible pitching wherever possible.
Can I bring my dog camping?
Yes, we accept friendly dogs (dangerous dog breeds are not allowed), please book up to two per pitch while space allows. Please make sure to add each dog when booking your pitch. We have a dedicated exercise area to walk your dogs in. We do ask that dogs are kept on a lead at all items (other than within the dedicated enclosed exercise area) and are not left unaccompanied on the campsite, and only guide/assistance dogs are allowed inside William's Den adventure play site.
What is William's Den?
William's Den is an all-year-round attraction that lets imaginations run wild and gives families and friends the freedom to play, eat, explore and camp together. It has play spaces inside and outside inspired by nature and young imaginations; acres of land to explore; and fantastic homemade food and ice cream.
What happens if I need to cancel my pitch?
All bookings are non-refundable, however, in certain circumstances, we will try to transfer your booking to another date. In the first instance, email hello@williamsden.co.uk
How many people are allowed on each pitch?
We allow up to six people per 8mx8m pitch in up to two tents.
What is the Big Campout?
The Big Camp Out is a cool mini-festival designed with families in mind. It's an all-in two-night event at William's Den where campers get to experience all of the usual William's Den camping experience with added special entertainment and surprises. This year it took place from June 30th to July 1st in 2023.
To hear about next years launch subscribe to our website or it's helpful to follow our social media pages too.
Can I make a campfire in the camping field?
Camp fires are not permitted for safety reasons.
What kind of cooking is allowed in the camping field?
Campers are welcome to bring their own gas stove or BBQ, but please ensure it is raised off the ground on bricks or its own stand to manage fire risk. Disposable BBQs may be allowed depending on the weather conditions at the time of your stay.
Will the William's Den restaurant be open for dinners and breakfasts?
Yes. One of the best things about camping at William's Den is that you get the feel of a wild campsite with the benefit of having an attraction on your doorstep. During our campsite opening weekends, the restaurant (aka William's Pizzeria) will have extended opening times into the evening on Fridays and Saturdays with last orders at 19.30 and will be open for breakfasts on Friday to Sunday from 8.30 am.
What if I get there and realise I've forgotten something important?
Please ask us! We have a shop where you can grab all kinds of camping essentials. Check back before your trip for more examples of what we'll be stocking. There's also a Wandahome store in nearby South Cave for camping and caravan essentials.
Can I park my car next to my tent?
Yes. You can choose to park your car next to your tent/caravan. We ask that you take extreme care when moving your vehicle around the site as there may be children playing. Please note there is a 5mph speed limit across the whole of the William's Den site.
Are Campervans allowed?
Yes. We welcome campervans to our off-grid campsite experience. Please note there is no hard standing available nor electricity hook-ups, so please plan accordingly! Max height 3.4m and width 4.8m.
Can I empty my chemical waste?
Yes, for the first time, we will have an Elsan point for disposing of blue waste.
Are caravans and tourers permitted?
Yes. We are allowing caravans/tourers and campervans onto our campsite for an off-grid experience. We do not have hard standing available, nor electricity hook-ups, but you are welcome to bring your caravans to use effectively as a tent on wheels. Depending on available space, we may limit the number of caravans on site per night so we encourage you to book as early as possible.
Do you have electrical hook-ups?
No, we don't. William's Den Camping is an off-grid camping experience so you get that real sense of getting away into the great outdoors. We will have some small pre-charged battery packs available to buy from our camping shop in case you need to charge up any essentials during your stay.
How do we book some days pitch only, and some days pitch-up and play?
Pitch Up and Play tickets give you the most flexibility for your stay, however, you are welcome to book pitch only and then add play tickets separately at a later date via our regular ticket booking website.
What time can we arrive?
Check-in is between 2 pm and 5 pm on your day of arrival. Later arrivals are welcome - please let us know in advance if this is something you will require.
What time do we need to be packed up by on departure day?
We ask that tents are packed up and cleared off the pitch by 12 noon on your day of departure. If you're staying to play at William's Den, you can move your car to the main car park and enjoy your day until we close!
How big is your campsite?
The field is more than 13 acres (approx 52,000 sq m) and we have 80 pitches available per night.
Explore with the whole family
2 miles of Woodland Trails & Walks
Mud Kitchens for imaginary fun
Sand & Water Play
Den Building
Climbing Adventures
Indoor Adventure Play
Tyre Swings
Play Bale Meadow
15 Acres of Playscape
Great Barista Coffee
Child & Allergen Friendly Menus
Delicious Wood-Fired Pizzas
Home-made Ice Cream
Sweet Treats
Locally-sourced Produce
Vegan & Vegetarian dishes
Fully-Licensed Bar
Fully Accessible Loos - Changing Places Accredited