Indoor Adventure - THE DEN
BEGIN YOUR ADVENTURE: Discover the Best Indoor Adventure Park in Yorkshire
Welcome to William's Den's 'show stopping' indoor adventure park aka the Indoor Den. Created by renowned experts in play, the indoor adventure park was built by skilled craftsmen who use sustainably sourced materials from our very own surrounding woods..
The ultimate destination for an exhilarating indoor adventure! We offer a one-of-a-kind experience that combines the thrill of an indoor adventure park for the whole family with the excitement of a kid's indoor playground.
Not Your Average Children's Indoor Playground
If you're looking for a kid's indoor playground near you, look no further!
Williams Den is the perfect place for your children to explore, play, and let their imaginations run wild. Our indoor playground is thoughtfully designed to provide a safe and stimulating environment for children of all ages.
Like what, you ask? Well, here are a few of our favourite parts:
The Ancient Oak

At the centre of our indoor adventure park sits our huge six-metre-high Ancient Oak.

Linking to a tree house, which incorporates swings, balancing pole branches, bridges and a three-metre slide into a sandpit below, the Ancient Oak is very much the hub of our indoor den.

The Stream

Fancy a dip? Well, you're in luck.

Our indoor adventure park boasts a cascading stream, pool and rainmaker to stimulate a rain shower. So, take those shoes and socks off and have a paddle in a stream with your little ones.

The Glade

Then there's our Forest Glade and Eagles Rest – a perfect place for a massive game of hide and seek with all your friends and family, if you ask us.
The Space was designed so that adults and children can play together. Supervision is required and adults are actively encouraged to put their phones away and participate.
Family fun days
From daring climbing walls and challenging obstacle courses to thrilling slides and rope bridges, our indoor adventure park, though incredibly kid-friendly, was initially designed for both adults and children to play together.
Though supervision is required, adults are actively encouraged to put their phones away and participate – so get playing!
Plus, the dedicated Play Pioneers are always on hand ensuring something is going on to help prompt children to play.
Visit William's Den and experience the best indoor adventure park Yorkshire has to offer!
So, what are you waiting for? Come and visit William's Den and experience one of the best indoor adventure parks Yorkshire has to offer.
Book below now!
Alternatively, if you have any further questions about our indoor play park or our other adventure playgrounds feel free to get in touch with one of our expert team members, who will help you however they can!
Why not check out our other highlights like our outdoor play or woodland adventure? Check out the big events we have planned at the best adventure play centre in Yorkshire
Make magical memories
Let your imagination run wild…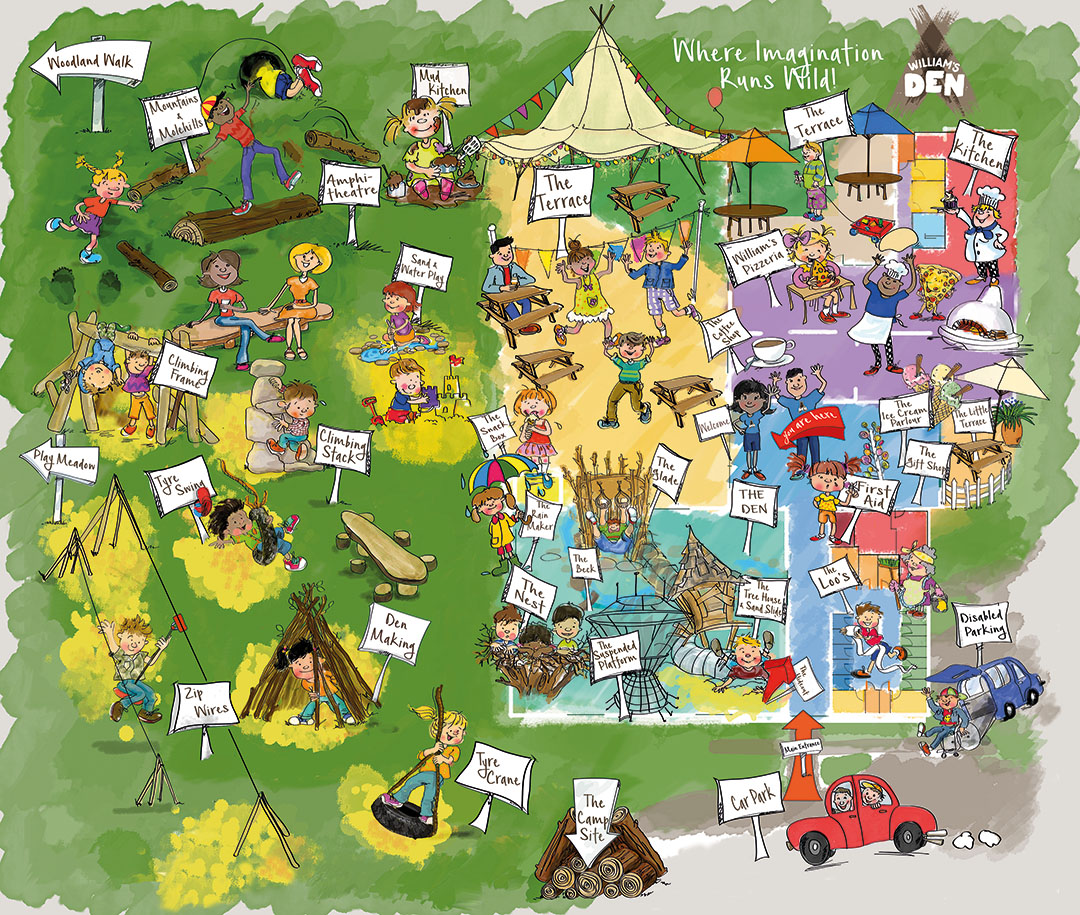 "This is a truly unique experience which allowed us to spend quality time together as a family"
David, Dad